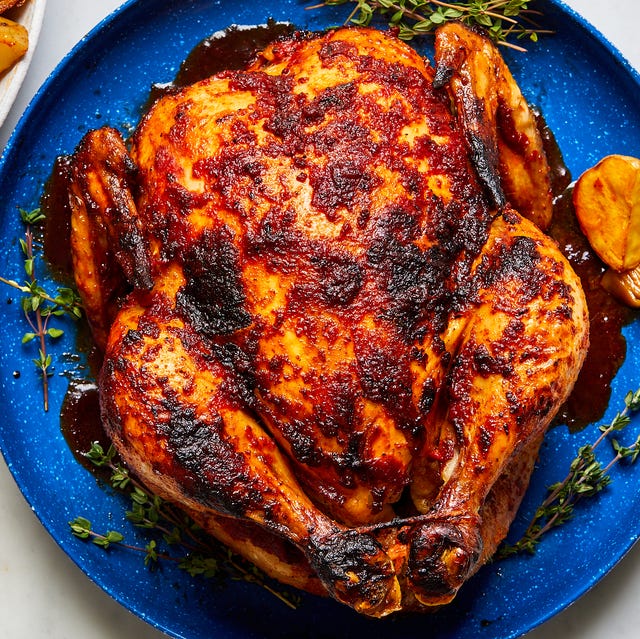 I am firmly in the camp that everyone should know how to properly roast a chicken, and this should be the recipe you try. Tomato butter works wonders on chicken. Not only does it keep the bird moist, but the healthy dose of tomato paste brings a slightly sweet, umami acidity, which chicken could often use. Plus, there are no better veggies than ones that have been roasted underneath a chicken, collecting all of that flavor-packed schmaltz. This is a great way to add some excitement to a classic roast chicken.
Ingredients
1 tsp. ground cumin
1 tsp. ground mustard
1/4 tsp. cayenne pepper
1 tbsp. plus 1 tsp. kosher salt, divided, plus more
Freshly ground black pepper
1 (3 1/2- to 4-lb.) whole chicken
1 1/2 lb. baby Yukon potatoes, quartered
2 large leeks, white and light green parts sliced into 1/2″ rounds
1 tbsp. extra-virgin olive oil
1/2 c. (1 stick) unsalted butter, melted
1/4 c. tomato paste
1 tbsp. fresh thyme leaves
Directions
SAVE TO MY RECIPES
Step 1 In a small bowl, combine cumin, mustard, cayenne, 1 tablespoon salt, and several grounds of black pepper.
Step 2 Pat chicken dry. Rub spice mixture all over chicken. Let sit at room temperature 1 hour.
Step 3 Preheat oven to 400°. In a large bowl, toss potatoes, leeks, and oil; season with salt and black pepper. Transfer about half of potatoes and leeks to a large Dutch oven or heatproof pot. Arrange chicken on top.
Step 4 In a medium bowl, whisk butter, tomato paste, thyme, and remaining 1 teaspoon salt until smooth. Reserve 1/4 cup tomato butter for serving. Brush chicken all over with remaining tomato butter. Fill in gaps on sides with remaining potatoes and leeks.
Step 5 Cover pot and roast chicken and vegetables 45 minutes. Uncover and continue to roast until an instant-read thermometer inserted into thickest part of chicken registers 165°, 35 to 45 minutes more. Let rest 15 minutes before cutting. 
Step 6 Brush chicken with reserved tomato butter and serve with vegetables alongside
Step 
Make Ahead: Tomato butter can be made 3 days ahead. Store in an airtight container and refrigerate.