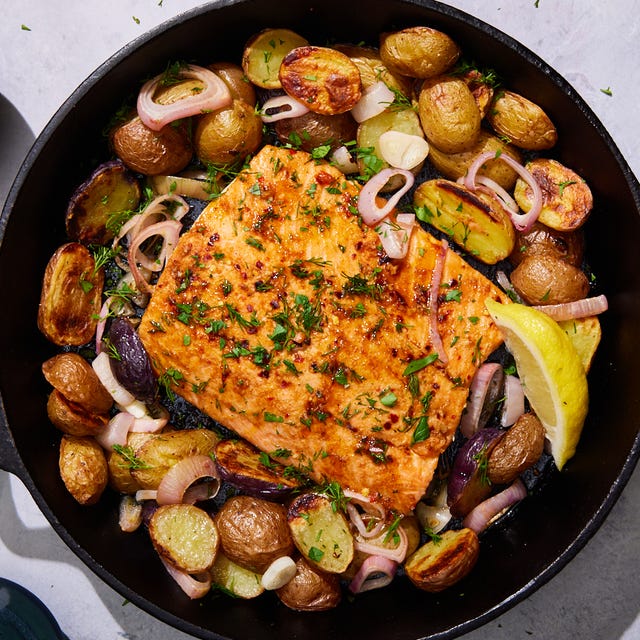 We love a hands-off dinner, and this salmon and potato skillet is just that. In just 45 minutes, you'll have an easy, delicious, and filling meal that can be customized every time you make it.
This simple meat and potatoes combo was inspired by my grandpa's favorite meal of canned salmon and russet potatoes fried in a huge cast-iron skillet. To give it my own twist, I went for a fresh skin-on fillet of salmon instead of canned, and waxy baby mixed potatoes instead of starchy russets. The good news is that a cast-iron skillet is still the perfect cooking vessel. Heating a large cast-iron skillet in the oven while it preheats provides a searing hot surface to crisp the potatoes before adding the salmon. While the potatoes cook, the salmon takes a quick bath in an easy marinade that will double as cooking fat. The salmon and potatoes are plenty filling on their own, but if you need some greens, pair this with an easy salad or swap half of the potatoes for Brussels sprouts.
Ingredients
2 cloves garlic, grated or finely chopped
1 tsp. crushed red pepper flakes
1 tsp. finely grated lemon zest
1 tsp. ground coriander
1 tsp. ground cumin
1/2 tsp. paprika
1/3 c. plus 1 tbsp. extra-virgin olive oil
Kosher salt
1 (1-lb.) skin-on salmon fillet
1 1/2 lb. baby potatoes, halved
Freshly ground black pepper
3/4 c. plain Greek yogurt
2 tbsp. chopped fresh dill, divided
2 tbsp. chopped fresh parsley, divided
2 small shallots, sliced into 1/4″ rings
Lemon wedges, for serving
Directions
Step 1Arrange a rack in center of oven; preheat to 450°. Place a large cast-iron skillet on rack.
Step 2In a small bowl, combine garlic, red pepper flakes, lemon zest, coriander, cumin, paprika, 1/3 cup oil, and 1/2 teaspoon salt. Generously season salmon on both sides with salt and place in a shallow container. Pour half of marinade over salmon; set aside.
Step 3In a large bowl, toss potatoes with 2 teaspoons salt, a few grinds of black pepper, and remaining 1 tablespoon oil. Carefully remove skillet from oven. Arrange potatoes cut side down in skillet and roast 20 minutes.
Step 4Meanwhile, in a small bowl, combine remaining marinade, yogurt, 1 tablespoon dill, 1 tablespoon parsley, and a pinch of salt; set aside.
Step 5Remove skillet from oven. Using a spatula, pile potatoes to one side or create a space in the center of skillet. Arrange salmon skin side up next to potatoes. Scatter shallots around salmon. Roast 6 to 7 minutes, flip salmon, and continue to roast until salmon flesh easily flakes and skin is crisp, 2 to 3 minutes more.
Step 6Top with remaining 1 tablespoon dill and 1 tablespoon parsley. Serve with lemon wedges and reserved yogurt sauce alongside.